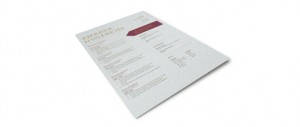 Looking to create a professional looking, eye-catching CV? Our quick and easy CV design packages make it simple.
Starting from just £65, we'll transform your plain old CV to fit one of our attractive CV templates. It's as easy as 1,2, 3!
Step 1: Pick a CV template
Take a look at our ever-growing range of CV template designs. Once you've found the design you like, simply select the required delivery time (1, 4 or 7 days) and number of pages (1, 2 or 3).
Step 2: Send us your CV information
After paying, you'll be sent to our quick and easy CV creator form. There are three simple ways to send us your details. You can just copy and paste the relevant information from your existing CV to our form or if easier for you simply send us a link to your Linkedin profile and we'll use that information for your CV. Or you can just upload your current CV and we'll use the information in it to transform it and bring it to life through our designs.
Step 3: Sit back and relax!
We'll then get to work creating your bespoke CV. You'll receive it by email as a PDF within the delivery time you selected – often quicker!
Each package includes a set number of minor text amends before sign off. So, if you need any changes to wording, simply email our team and we'll make the changes and resend your final CV.
All ready for you to send on to your dream employer!